Comparing MacBook Air vs. MacBook Pro
Torn between the portability of the Apple MacBook Air and the unparalleled display of the Apple MacBook Pro with Retina Display? We compare the two to make your next visit to the Apple store a bit less daunting.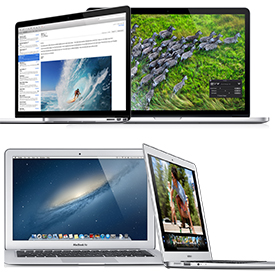 Performance or portability? Cost or capability? These are the tough decisions facing anyone buying a laptop; but these issues are thrown into sharp relief when you're browsing at an Apple store. The MacBook lineup is book-ended by two stunning examples of systems that redraw the boundaries constraining laptops. The MacBook Air 13-inch redefined portable computing, simultaneously killing off the netbook and spawning the ultrabook. Adding a Retina display to the MacBook Pro 15-inch pushed the laptop from all-around performer to the pinnacle of premium laptops for video and graphics professionals. But which one is best for you? Let's take a closer look at each.
Apple MacBook Pro 15-inch (Retina Display)
At first glance, the MacBook Pro 15-inch (Retina Display) looks a lot like the regular MacBook Pro. It's a little bit thinner, and a little bit lighter, but it's clearly part of the same family. The real difference becomes apparent when the laptop is turned on, and you get a first look at the stunning Retina Display.
With a 2,880-by-1,800 resolution screen, the MacBook Pro 15-inch (Retina Display) is perfect for media professionals and prosumers, with such smooth edges and tiny pixels that it's easy to forget that there are pixels at all. High-resolution photos and videos can now be seen at full resolution, even as you edit. Apple's video editing software now allows video editing—on the fly editing, with toolbars and palettes galore—while still running at 1080p in the corner preview window. It's also a great system for work, games, and anything else that needs processing power, thanks to a beefy quad-core Intel Core i7-3615QM processor (2.3GHz) and Nvidia GeForce GT 650M discrete graphics.
The MacBook Pro 15-inch (Retina Display) is also outfitted with two Thunderbolt ports—which do double duty for both high-speed data and Mini DisplayPort for monitors—along with two USB 3.0 ports, full-size HDMI output, and an SDXC card slot. The addition of "Extreme Capacity" (the XC in SDXC) is also important for anyone working with the highest resolution images and video. And, in our anecdotal testing, we found Apple's claims of 7-hour battery life to be right on the money.
So why wouldn't you get the MacBook Pro 15-inch (Retina Display)? Two reasons: Portability and price. While thinner and lighter than the standard MacBook Pro 15-inch, 4.46 pounds is still heavier than most people want to carry every day, and it's still too heavy and unwieldy for the go-anywhere convenience that some users demand. And at $2,199 for the starting configuration, the MacBook Pro 15-inch (Retina Display) ain't cheap.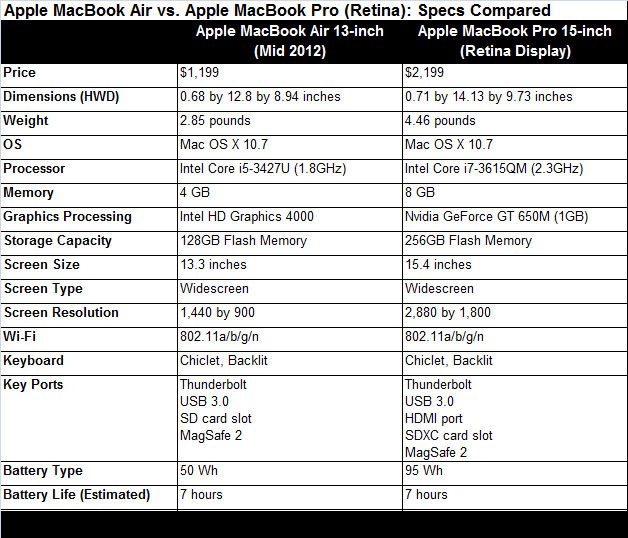 ---